First Friday: All About Real Estate
Today we're talking all about real estate. If you Google real estate right now you may find all kinds of things about the current housing market, how crazy it is, and how we are in this real estate bubble. 
The main point that I want to bring up with all of this real estate craziness is that we need to know our current situation. We can control only what we can control and you know it's kind of one of those things that I can't worry about. 
It makes me think of the Serenity prayer.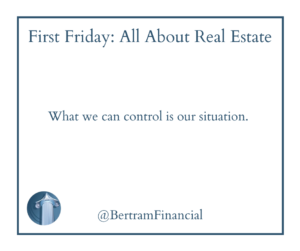 God, grant me the serenity to accept the things I cannot change, the courage to change the things that I can, and the wisdom to know the difference. 
We can't change what's going on outside. We can't change the fact that there might be a housing bubble or that the stock market might crash. 
What we can control is our situation. 
Buying, Selling, Re-locating, Downsizing…
Whether we're at a housing bubble, whether the stock market takes the fall, we need to make sure that we are set up in a way that we are not going to be hurt no matter what happens. 
So, whatever we're doing with real estate, whether it's buying, selling, using a reverse mortgage, let's make sure that it is part of our overall coordinated plan. 
We don't want to do anything on an island. Christina shared that the housing market is going crazy right now. A lot of people are getting out of cities or working remotely. Regardless of the situation, there are a lot more buyers right now, so houses are going extremely fast. 
So if you're someone who's looking at maybe downsizing, moving for retirement, or you're just kind of looking at relocating somewhere, I think the biggest thing that it would be important for you to consider is if you're going to put your house up for sale you need to know where you're going to go because more than likely you're going to sell it quickly. So if you are the seller think about that. 
If you're trying to buy in this market, make sure you're prepared with cash or pre-approved financing and that it is all part of your coordinated plan. 
In some cases, if you're trying to downsize and want to buy before selling, you may be able to work with us or a financial advisor to see if you are able to buy before having to sell your current home. 
Investing in Real Estate 
As far as using real estate for investments, I know there are some great options out there. 
Whether you have a rental or do you Airbnb or any of those other options, but it should be coordinated. 
Owning real estate can be a great investment, but we have to have the ability to put some of the time in. If you're considering this route you want to make sure you go through all that and see what the cash flow is going to be and if this is really an option.  
Reverse Mortgages
Lastly, we talked about a Reverse Mortgage with Steve. This is a tool for somebody over 62. It is really just a mortgage in reverse!  Instead of you paying the mortgage company, they will either pay you or open a line of credit that increases in value over time. 
One of the most important pieces of information with a reverse mortgage is that you still own the house and have control of the house. 
If you decide that you want to sell, you can still sell the house, but would just have to pay off whatever mortgage is left, just like a traditional mortgage. 
There are some great strategies that can be part of a reverse mortgage. 
First, if you're trying to create more retirement income, this could be a great route to take. YOu could create additional income and/or lessen expenses by not having as much of a mortgage payment. 
The second is just to be able to have more available cash if you need it through an open line of credit growing with the reverse mortgage. You can access it at any time for anything that you need. 
The biggest thing I will stress is that you can never borrow more on your reverse mortgage than your home is valued at. Neither you nor your kids will ever owe more on the reverse mortgage than the house is valued at, and I think that's another thing that's important to keep in mind.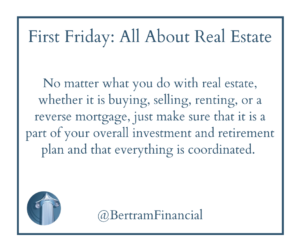 Since it is a government program any remaining equity goes back to the estate. It is a government-insured program which means there are some safeguards in place as well as some contractual guarantees. 
No matter what you do with real estate, whether it is buying, selling, renting, or a reverse mortgage, just make sure that it is a part of your overall investment and retirement plan and that everything is coordinated.
If you want to set up a call or have questions answered by Christina or Steve, please schedule a call with us and we will connect you with them. 
Christina can speak with you about buying or selling and Steve can connect with you about a reverse mortgage. 
The best part is that no matter which of us you'd like to speak with, there is no charge to talk. We are here to educate you and assist you with any part of the process.  
We always have your best interest at heart and want to make sure that no matter what you choose to do that everything is coordinated, working together, and part of your overall plan. 
So, if you have questions on any of that, reach out to me and I'll make sure I get you connected to the right person.
Want to share this blog post? Click the links below!